A traveler without knowledge is a bird without wings.
Vienna – Discover. Marvel. Colorful.
Wandering through a new city, or even one's hometown, soaking up the atmosphere has its own particular charm. Often, that feeling creates a desire for more, as questions arise, or something seems unusual. As Goethe said:
"One only sees what one knows."
Accurate explanations, fascinating background and tips on how to see things in a new way can bring churches, public spaces and works of art to life.
This is where Lila Tilla Tours begins: Accompany me on eye-opening tours of discovery that look behind the facades and put the city and its residents, past and present, firmly into focus.
History lives
Walking through Vienna feels like walking through an open-air museum. The magnificent facades of baroque palaces or soaring churches are not only impressive monuments, but also tell stories of their builders and those who lived or worshiped there. Tragic fates, lucky turns of fortune, political ambition, all continue to define the soul, the DNA, of the city.
Sassy and witty
Humor, anecdotes and irony, what the Viennese call "schmäh" is a complex mix of wit with an element of dark humor, sometimes even scarcely veiled spite. What at first may sound endearing, upon reflection turns out to have a double meaning.
Women in the foreground
Only two empresses are immortalized in monuments in Vienna. Women are hard to find in public spaces, whether in bronze or marble, or with their names on street signs. It is precisely for that reason that I want to highlight their achievements and importance to the city's history. In that sense, "Lila" (purple), as a symbol for women, sets a tone of emancipation.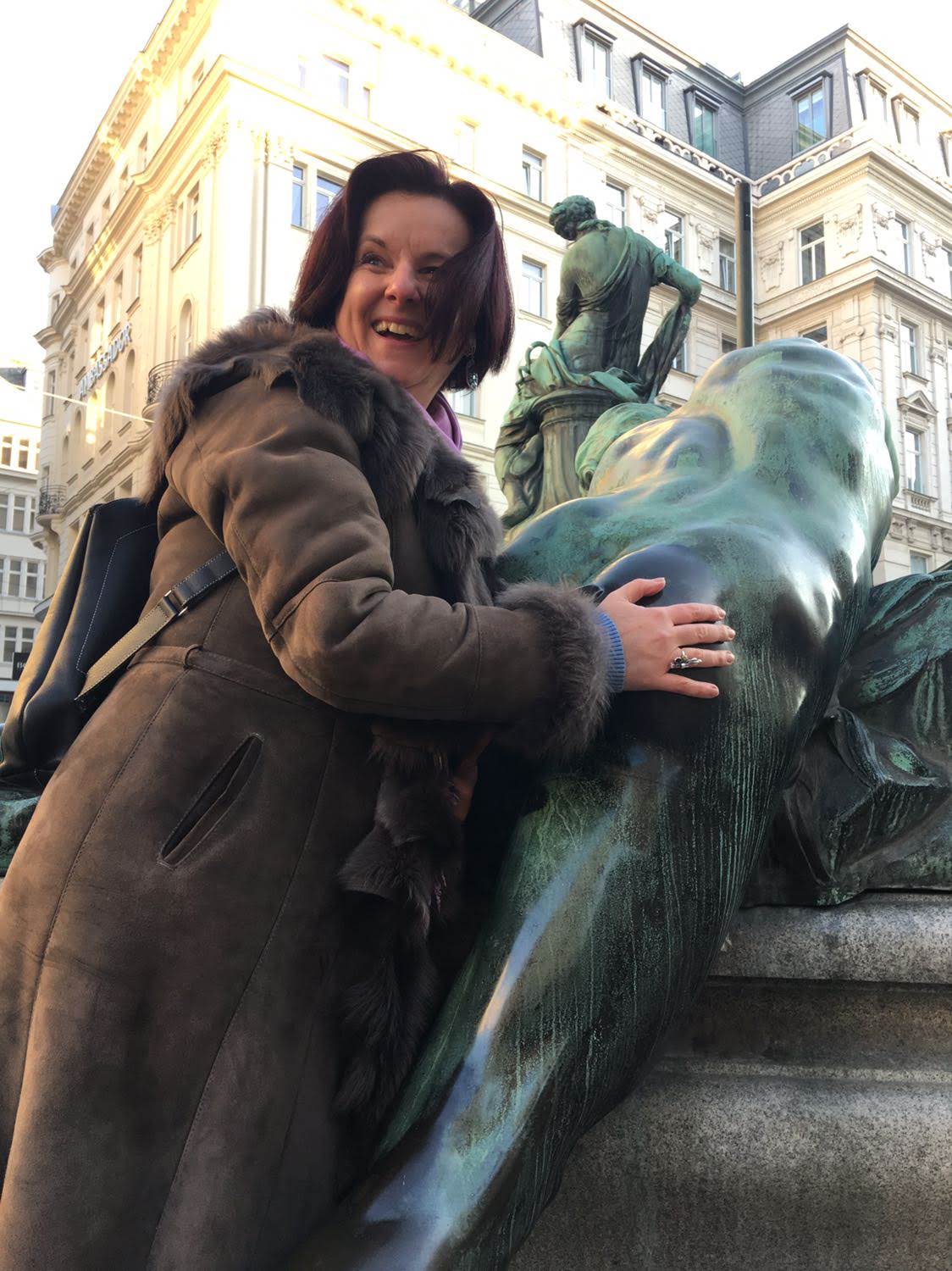 In "reality" my name is Ina Hauer and I have lived in Vienna since 1987. I am a Viennese by conviction, because I love and value this city.
I studied art history and business administration in Vienna and Orlando, Florida. My professional life led me into tourism, working with respected travel organizers, in cultural management and for an NGO. I especially enjoyed mapping out and leading unusual and study-oriented tours. I have been able to travel to the most beautiful places on earth, and in the process, learned what a privilege it is to live in a city like Vienna.
I want to infect others with my enthusiasm, and by providing historical context, provide a more sophisticated perspective.
I love the Kunstkammer (chamber of arts and curiosities) in the Kunsthistorisches (Art History) Museum, the narrow streets, the hidden courtyards in the shadow of St. Stephen's Cathedral, Opera performances at Theater an der Wien, bike through the Prater park and along the Danube Island, lounging in the vast open courtyard of the Museumsquartier, hearing a multitude of languages at the Naschmarkt, breakfast with friends, the public transportation system, Viennese water, a glass of Viennese wine, potato salad with Schnitzel at a favorite restaurant, the truffle sundae at the Tuchlauben ice cream parlor, colorful hats and shoes … and when I need a break, I pack my lila suitcase, discover the wide world and marvel.